Family and children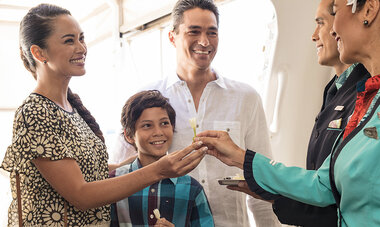 Traveling with your family?
Our main priority is to ensure your well-being and safety: personalized services, special meals, kit for children, baggage, strollers, etc. We make sure your family trip is a true moment of pleasure.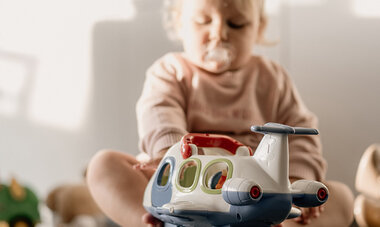 Infants 
On all our flights, babies under 2 years of age benefit from a 90% reduction on the adult fare. However, they do not have their own seat and will travel on your lap.
Your baby can also travel on a seat next to you. In this case, the purchase of a ticket at the child fare is required and your baby must be placed on an approved car seat. With this option, the baby will benefit from the same baggage allowance as you.
The safety and comfort of your baby on board
Have you booked a seat for your baby?
To ensure their safety and enhance their comfort, it is essential to install a car seat that meets the following requirements:
It must be approved for use in a forward-facing configuration,
It must be in good condition and show no signs of damage,
It must respect the width and depth of the aircraft seat,
It must be equipped with a safety harness.
Please be advised that the following seat types are not recognized as safe for use in our aircraft: 
Any seat designed to be installed only with rigid bar lower anchors (isofix or equivalent),
Any booster seat,
Baby carriers
We remind you that you are responsible for installing the car seat on board in accordance with the manufacturer's instructions.
Check-in and cabin crew may not allow a non-conforming seat to be installed.
Important note: for safety reasons, comfort equipment that allows children to sleep lying down, such as suitcases that can be converted into beds in front of the seat, are not allowed in the cabin on board Air Tahiti Nui.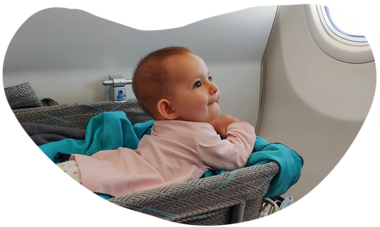 Bassinets
For your comfort and that of your baby, baby bassinets are available free of charge (the adult seat facing the bassinet is chargeable). Please note that the number of baby bassinets on each aircraft is limited. It is therefore important to request a seat with a bassinet when making your booking.
These bassinets are suitable for babies weighing less than 14 kg (about 30.8pounds) and having a maximum height of 75 cm (about 29.5in). The dimension of the bassinet being 75.3 cm (about 29.6in) in length, 34.3 cm (about 13.5in) in width and 22.4 cm (about 8.8in) in height.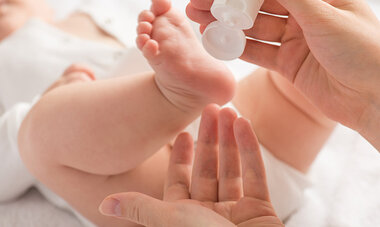 A free baby comfort kit
Whatever your class of travel, Air Tahiti Nui offers you a kit for your baby. It contains a bib, a diaper, wipes, talcum powder, a rattle, etc...
Seat Assignment
For safety reasons, if you are traveling with 2 babies, it is recommended to occupy the following seats:
In Poerava Business:  

1 adult and 1 baby per seat block
The bassinet location is in front of seat 1A.

In Moana Premium : 

The adult and 1 baby per block seat, OR
2 adults and 2 babies in row 10DEF
The location of the 2 bassinets are in front of seats 10A and 10L.

In Moana Economy : 

The adult and 1 baby per block seat, OR
2 adults and 2 babies in row 18 or 32DEF
The bassinet locations are in front of seats 18A, 18L and 32D.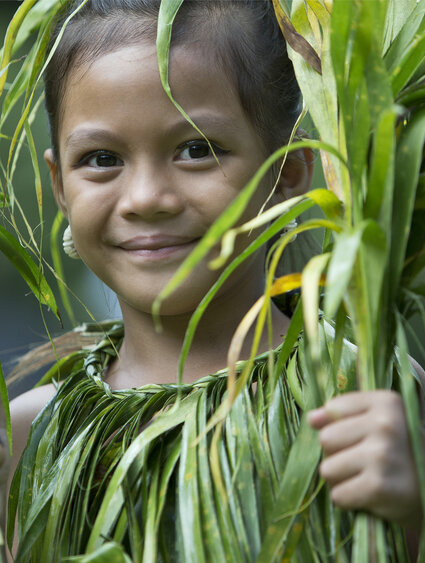 Accompanied Children
All children between the ages of 2 and 12 must be accompanied by an adult of at least 18 years old (unless the adult is the child's biological father or mother, or legal guardian).
The child and the accompanying adult must travel in the same cabin. Otherwise, the child is considered to be traveling unaccompanied (UM).
Air Tahiti Nui is concerned about your child's well-being and offers them coloring books and games during the flight, as well as an adapted entertainment program: cartoons and video games. You can also request a "special children's meal" when you make your booking or at least 48 hours before your departure date.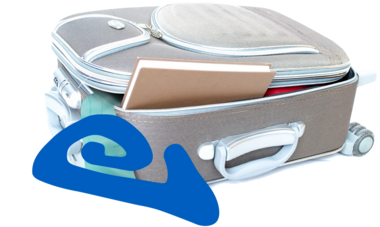 Your child's baggage
If your child has his/her own seat, he/she benefits from the same baggage allowance as an adult. See our " Baggage allowance " section.
If your baby travels on your lap, you can check in a maximum of 10 kg (about 22 pounds) of checked baggage and carry a maximum of 3 kg (about 6.6 pounds) in the cabin.
Stroller, car seat, bassinet:
Your comfort is one of our top priorities. When you travel with an infant or child under the age of 7, we offer, free of charge, holding of a folding stroller, a bassinet or a car seat per infant or child.  This is in addition to the standard baggage allowance. The car seat is accepted free of charge in the cabin when it is installed in the seat you purchased for your baby.
If you use your stroller in the airport, it will be collected from you at the boarding gate of the aircraft and stored in the hold. Upon arrival, it will be made available to you upon request at the aircraft's disembarkation gate or on the baggage carousel in the arrival hall.
Kids travel kit:
Air Tahiti Nui is pleased to offer a travel kit for children from 3 to 7 years old.
Customized with the company's new branding, the Air Tahiti Nui kids kit is composed of a reusable string bag containing :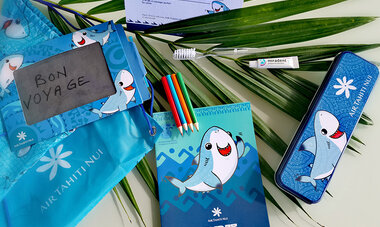 A pencil case / box of pencils,
A magic blackboard,
A flight certificate,
A toothbrush and toothpaste kit,
And more particularly a new activity book, especially co-created with Te Mana O te Moana, a local association committed to the preservation of marine life.
As part of our CSR approach, Air Tahiti Nui is committed to the environment. The elements provided in this travel kit are sustainable and reusable, and the paper used for the booklet and the flight certificate is FSC certified.