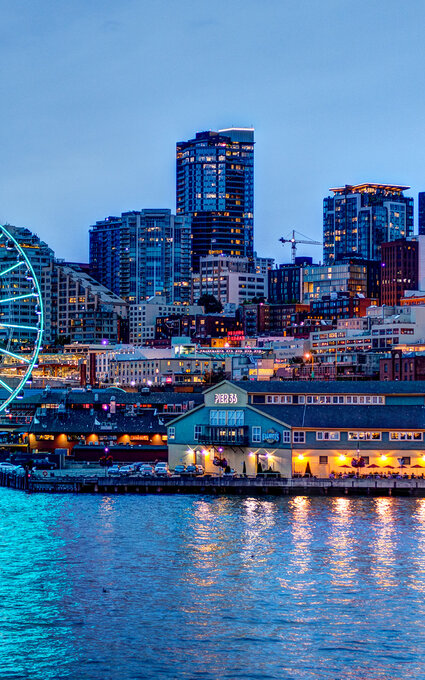 What is there to do in Seattle?
Got three days to spend in Seattle? Don't worry if you don't have time to see everything. You can still enjoy the top places in Seattle and have an amazing trip just by following this guide!
The states of Oregon and Washington are widely regarded as exceptional cultural and culinary destinations. Along the Pacific coast, Seattle and Portland have made a name for themselves as culturally distinctive cities with an impressive number of family-friendly museums that engage visitors through interactive exhibits. They have also honed an undeniable culinary expertise that does the kitchen justice through the divine use of native ingredients. 
So, how should you spend your three days in Seattle? Air Tahiti Nui has compiled a list of the best spots to visit, from morning to night, to make the most of these three special days.
The morning's best places
Get started on the right foot with a morning coffee. Seattle is THE coffee city on the Pacific coast, absolutely brimming with great coffee shops. In fact, the city consumes the most coffee per capita in all of North America. Seattle is the birthplace of Starbucks, and you can even visit the original location, complete with coffee, a museum, open areas, and live roasting. Meanwhile, the locals all seem to agree that Milstead & Co, a small coffee shop in the Fremont neighborhood, is one of the best in the whole country. If it's too crowded, head over to Lighthouse Roaster, where they hand-roast their beans every day. Or check out Caffe Vita, whose coffee beans are imported fresh from fair trade farms.
Coffee is pretty amazing, but why not indulge in some sweets? In Seattle, the cupcakes are not to be missed! While this delicious treat with icing is made in several American cities, Seattle boasts a long-standing custom. We suggest the following four locations (and many others) for deliciously eye-catching cupcakes: Rosie Bakery, Cupcake Royale, the cupcake temple of Seattle (several locations citywide), Ashley's Sugar on Top, and Butter Cupcakery. 
If you like brunch, you'll want to try the restaurant at McMenamins Elk Temple. And don't worry if your meetings run late! The place serves delicious burgers and craft beers until late in the night. The Spanish Ballroom welcomes musicians for vibrant live concerts on select evenings.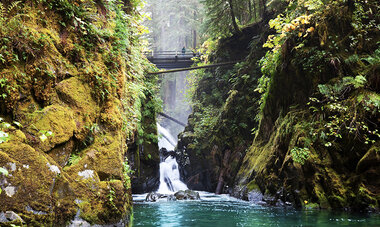 The city's attractions
Want to see the city from above? Head to the Seattle Ferris Wheel at the end of Pier 57. A revolving wheel will provide a soothing soundtrack as you spend 15 minutes taking in the city. For a VIP experience, purchase tickets for cabin #42, which fits up to four adults. It is equipped with leather bucket seats, a stereo system, and a glass floor. Here you can also experience a brand-new multisensorial flying ride. You will then be transported on a 20-minute flying adventure above Washington State, experiencing Elliott Bay, the Olympic National Forest, the San Juan Islands, the Cascade Range, Snoqualmie Falls, the Tieton River, and the breathtaking Walla Walla Wine Valley.
If you are looking for a higher "perch" from which to see the city, head to the Space needle, which is comparable to Auckland's Sky Tower. Constructed in 1962 as the focal point of the Seattle World's Fair, it is the ideal location to take in Seattle and its environs without missing a beat. If you want to feel like you're floating, climb the skyrisers, raised glass seats, or peruse the magnifying glass on the revolving glass floor—a global first—for an incredible perspective from the top of its 152 m height.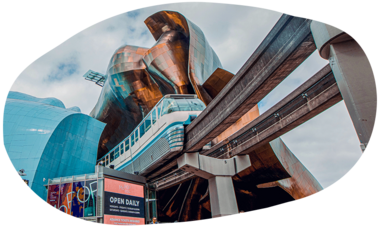 A cultural city
Next door, you can visit the Mo Pop (Museum of Pop Culture), funded by the American billionaire Paul Allen and his sister Jody Allen (patrons of Seattle). Captivated with rock music, especially the Seattle-born Jimi Hendrix, they constructed this "Temple of Rock," which is home to numerous art, photo, and painting exhibitions. The 80,000 pieces on display at the museum span the history of rock music, with excursions into hip-hop, the blues, and other genres.
If the weather is nice, don't pass up a bowl of clam chowder, which is popular along the Pacific coast. It is a clam-based creamy soup that is generally served in a sourdough roll that has been hollowed out, leaving only the crust as a bowl. Pike Place Chowder makes an unforgettable clam chowder. And the one from Seattle Fish Guys, near the fishing port, is exceptional.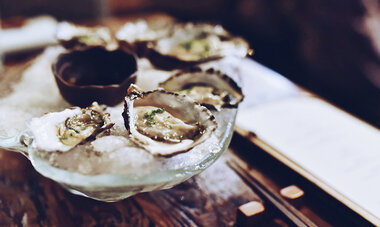 Local gastronomy
If you like oysters, you've come to the right place! Seattle has more than 60 varieties of oysters harvested around Puget Sound, the inlet that surrounds the city. You can enjoy them every day and in any way! Grilled, on a bed of ice, steamed... They are suitable for all tastes. If you could only visit two locations, opt for The Walrus and the Carpenter, in Ballard. In addition to serving delicious sardines on perfectly grilled toast, it is a must-have for its selection of oysters. Your other option is Taylor Shellfish, which offers a variety of seafood on its menu.
Is there anything you simply can't miss in Seattle? While the city is filled with multiple culinary influences from its diverse communities from all continents, there is one local must-have food: salmon. Canlis, Seattle's only Relais & Châteaux restaurant, serves the best king salmon in the city. But you'll also have a great time at Ivar's Acres of Clams on the waterfront.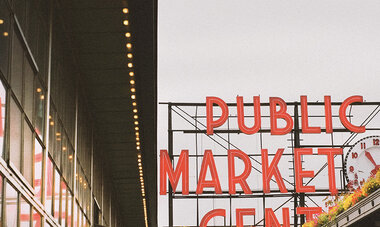 A new perspective on the city
Take time to visit one of the farmers' markets. These can be found in neighborhoods all across Seattle, including Ballard, University, West Seattle, Queen Anne, Capitol Hill, and more. Like Portland, the city has chosen to focus on quality, as well as local, organic ingredients. That's probably why we eat so well in the city. The Public Market Center, on Pike Place, is the best known and most touristy.
An Argosy Ferry harbor cruise is the perfect way to see the sights of the bay. You may want a city pass that entitles you to multiple discounts if you plan to visit the Space Needle, the Seattle Great Wheel, the stadiums, Olympic Park, the botanical garden, the Arboretum, and the Chihuly Garden and Glass, where we'll spend the first evening.
Stuck in business meetings all day with no time for lunch? It's a hot dog to the rescue! While ketchup and mustard complement hot dogs well in New York, cream cheese is the star of the show when it comes to this Seattle street food. To sample a Seattle Dog, as they're commonly known, head over to Joe's Grilled Gourmet Dogs, preferably after a game at one of Seattle's stadiums, or Dante's Inferno Dogs in Ballard.
Seattle, wine capital
Want an original tasting experience? Or just a cozy place to enjoy a drink and good conversation? Why not try a local whiskey? Three places stand out for discovery, a guided tour, and a tasting: Westland Distillery, one of the region's largest distilleries, is just steps from Safeco Field. A little further away are Woodinville Whiskey Co. and Copperworks Distilling Company, perfect for a guided tour and for learning more about this spirit. You can't visit Woodinville without stopping at Krō Bär Bothell, one of the most fascinating cocktail bars. Do you prefer cocktails? Go to Radiator Whiskey, a cocktail bar near Pike Place Market, which has a dozen whiskey-based cocktails. Otherwise, get cozy (and stay for dinner at the steakhouse) at Whiskey by John Howie, near the botanical garden.
The Washington area is a wine-producing region whose reputation grows year after year (despite its young vineyards). The wines of the Walla Walla Valley have a remarkable rating (four hours southeast of Seattle, past Mount Rainier). Don't miss Woodville, just 30 minutes north of the city (by car), to visit multiple estates, including Château Ste Michelle, one of the state's largest producers. If you don't want to leave the city, go to Charles Smith Wines Jet Set, located in a former bottling plant in Georgetown, or Elsom Cellar in South Downtown. Within the city center itself is the Purple Cafe and Wine Bar, which is every wine lover's dream, with a wine list that reads like a novel and a bar that wraps around a tower.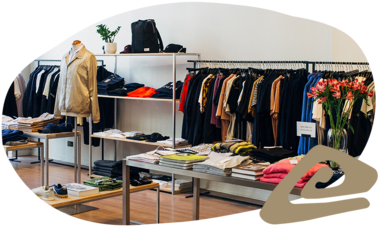 Shopping malls and neighborhoods
You can't visit Seattle without doing some shopping. And thankfully, there are so many shopping centers! We've chosen four to feature here.Wallingford Center is a small shopping center with a provincial feel, with wooden floors and original shops, most of which are not franchises. University Village is the must-see mall. Everything you need for shopping is here in one place, including the food court and multiple floors of stores selling everything from jewelry to sports, clothing to makeup.Pacific Place is a mid-sized shopping center with high-end stores. Finally, West Lake Center is home to some 20 stores and restaurants. Plenty to make you happy!
One last souvenir to bring back to Tahiti? Why not chocolate? But not just any chocolate: Barack Obama's favorite chocolate. For this, you need to visit Fran's for a little bundle from this family-run, artisanal chocolate factory. 
When it's time to go home... You'll be comfortably seated on an Air Tahiti Nui plane, remembering all the good times you had. One thing is for sure: you'll be back with so much left to discover.