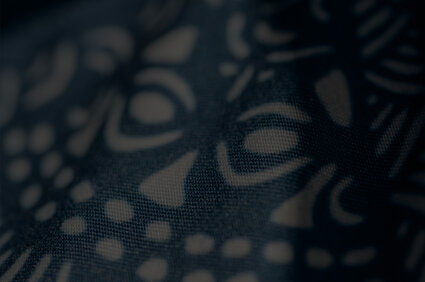 A new reward for the Air Tahiti Nui travel kit
05 August 2019
After receiving the TravelPlus Award in 2017 in the "ethically sustainable" category, Air Tahiti Nui was once again rewarded in 2018 with a Gold TravelPlus Award for its new Poerava Business Travel Kit.
Taking advantage of the complete renewal of its fleet, Air Tahiti Nui also wanted to upgrade its onboard service by offering new comfort kits for its economy, Premium and Business class passengers, and introducing an eco-responsible dimension to the amenity kits.
And again, the travel kit of our class Poerava Business was distinguished at the World Catering Expo -an international conference dedicated to catering- this year with a TravelPlus Gold Award (region Asia / Australasia).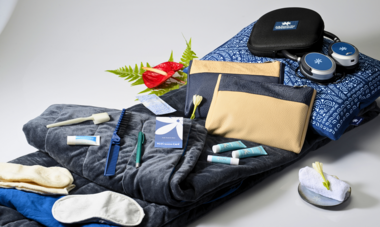 Inspired by the new company identity (tattoo pattern and ape leaf), the new Poerava Business comfort kit is brighten not only with products made of recyclable materials (cornstarch toothbrush, bamboo fiber sock, organic cotton mask) but also with a range of new cosmetic products made in Polynesia (face and hands cream hands and a lip balm) from the brand "Heiva". Air Tahiti Nui received the TravelPlus Award 2017 in the category "ethically responsible" for these amenity kits.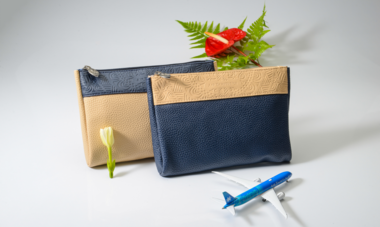 In addition, the Moana economy class comfort kits have also been renewed to promote the beautiful landscapes of Polynesia, while those of the new Premium class are made from recycled plastics.
This award recognizes the numerous efforts made by the company and its teams to materialize the CSR commitments of Air Tahiti Nui and encourages the company to keep this virtuous dynamic towards the environment and society.
Learn more about its Air Tahiti Nui CSR approach.