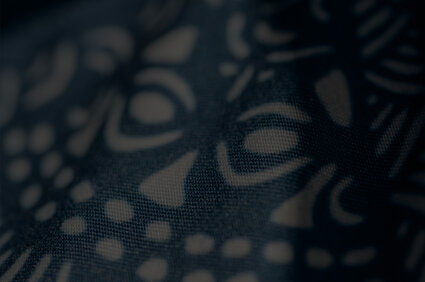 APEX Passenger Choice Awards 2022: Air Tahiti Nui wins two awards in the South Pacific Region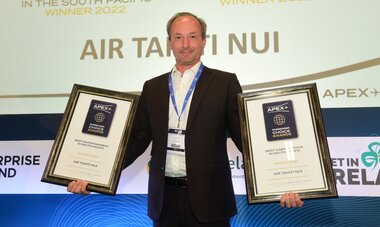 After winning the Best Seat Comfort Award in 2020, Air Tahiti Nui is once again awarded in the APEX Passenger Choice Awards®. This year, the Polynesian airline received two regional Awards: Best Entertainment and Best Cabin Service in South Pacific. Jean-Marc Hastings, Regional Director France/Europe for Air Tahiti Nui, was in Dublin for the award ceremony held on Wednesday June 8, 2022.
The APEX Passenger Choice Awards®, in partnership with the travel application TripIt® from Concur®, conducts an annual ranking of nearly 600 airlines. Passengers can express their opinions by rating the comfort of their cabins and the quality of service on board. This data is used by the Airline Passenger Experience Association (APEX) to rank the best airlines in each category and region.
The COVID-19 pandemic did not make things easy for airlines. Despite the closure of many borders, which severely disrupted flight schedules, and the sanitary constraints on board and at the airports, Air Tahiti Nui did its best to maintain its operations, even at the peak of the crisis, while trying to preserve its standards of service.
These distinctions come as a reward for the hard work that Air Tahiti Nui's team members have put in making sure our customers would stay connected with their loved ones. This gives us more courage and confidence to keep on improving our service and sharing the joy of travel. It is with great humility and the utmost gratitude that we address our sincere thanks to our customers and partners for their ongoing support.
The award ceremony was held in Ireland on Wednesday, June 8, 2002, at a double event that gathered all the members of the industry: the APEX Content Market 2022 and the Future Travel Experience EMEA/Ancillary/World Airport Retailing Summit.
About APEX:
The Airline Passenger Experience (APEX) is a non-profit organization composed of professionals and companies from the aviation industry, dedicated to improving the travel experience of passengers from all over the world. This year, nearly 600 airlines and more than 1.2 million flights were rated by passengers on the travel management application TripIt® from Concur®, APEX's partner. Overall trip rating, seat comfort, in-cabin service, entertainment systems, food and beverage, and in-flight Wi-Fi: passenger reviews are collected and analyzed by APEX members in each category to create an annual ranking of the world's best airlines.