Follow the Sun - Seattle to The Islands of Tahiti
Super Value Vacations from $2,398! Save up to 40% on these packages.
Air Tahiti Nui is pleased to offer this selection of specially curated vacation packages featuring our home, The Islands of Tahiti! Great savings are offered with these vacation suggestions. If you wish to customize your trip, simply speak with one of our Tahiti specialists.
Let yourself melt in to the Polynesian way of life. Relax in a hammock under the coconut tree gently swaying in the breeze. Order a Mai Tai, sit back and enjoy. Jump off your own private over water bungalow to swim in the shallow turquoise lagoon waters, with hundreds of tropical fish. Or get more adventurous with snorkeling and diving in the stunning lagoon. Visit the local villages or marché, take a four-wheel safari trip, and don't forget to indulge in local shopping and the world famous Tahitian black pearls.
These vacation packages are available from our new gateway of Seattle commencing from October 5th. Special airfares from cities across the US and Canada  are available via our partner Alaska Airlines to Seattle. Departures are also available via our Los Angeles gateway. Easy to get to, closer than you think, Tahiti is only a little more than 8 hours nonstop from the west coast with a 3 hour time difference.   
See you in Paradise!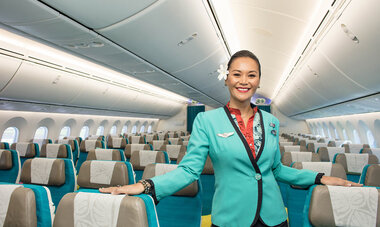 Air Tahiti Nui is pleased to have partnered with our Tahiti specialists to offer a variety of special vacation packages, all of which include:
Air Tahiti Nui award winning flights between Seattle and Papeete, Tahiti in Moana Economy class
Meet and greet and transfers to and from your hotel
Where applicable, inter-island ferry to Moorea or inter-island flights
Daily American buffet breakfast for two
6 nights first class and deluxe beachfront resort accommodations
Prices are per person, based on hotel double occupancy*
Call 1‑877‑GO‑TAHITI (1‑877‑468‑2448) or fill out a request form to book a package.
Two Island Delight - Tahiti & Moorea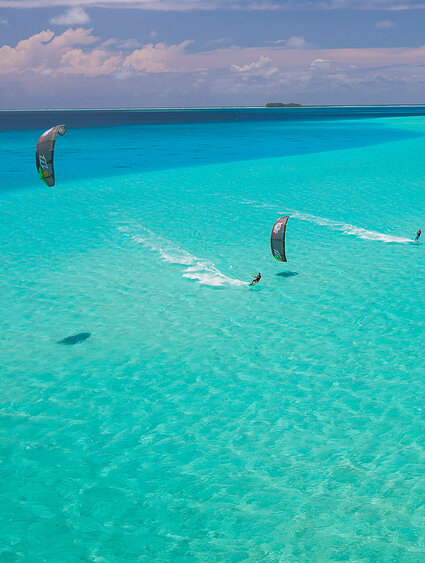 HI
Relax in both Tahiti and Moorea with these spectacular offers. Soak in the sun and blue waters in Tahiti, then head on to Moorea, just a quick ferry ride away. Tall, lush peaks of volcanic rock tower over two beautiful blue bays, giving Moorea its unique majesty...a rich backdrop for your time in The Islands of Tahiti.
Jewels of the Islands - Tahiti, Moorea & Bora Bora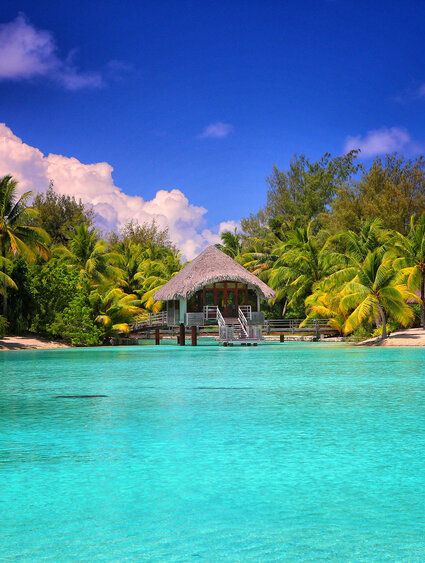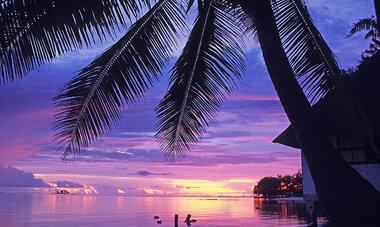 Island Paradise - Tahiti & Rangiroa from $2,398 pp.
Looking for that very quiet South Pacific Island escape ? Then set your sights on Rangiroa, located in the Tuamotu archaeologic. On one side  of the reef, the Pacific  Ocean and the other side  one of the largest lagoons in the world. Escape to this beautiful, secluded Island and see a different way of life which long ago disappeared from most places in the world.  Yet enjoy the wonderful service and accommodations of the Kia Ora Hotel. This is truly far from the maddening crowd and a well kept secret you will be so happy to discover.
* /**Terms and Conditions: All prices shown are suggested retail prices, per person, based on two people travelling together and include roundtrip airfare from Seattle to Papeete, Tahiti via Air Tahiti Nui, hotel double occupancy, airport-hotel-airport transfers in French Polynesia and domestic flights or ferries as applicable. Single traveler supplemental rates will apply. All prices shown includes all carrier-imposed charges, fuel surcharges, airport fees and government taxes including 9/11 security fee. All prices may change based on currency/tax fluctuation. Certain local taxes and resort fees are paid locally, not included in the prices. Travel is valid only on the dates specified and seats and rooms are limited and not available on every date. The Air Tahiti Nui airfare element of the package allows one free change within the promotion period, based on booking class RBD availability and is fully refundable if cancelled prior to departure based on the BPTOKUS fare used in the packages. If another airfare is used cancellation and refund restrictions may apply. A deposit may be required at time of booking and land cancellation and service fees apply. The Tour Operator reserves the right to substitute the hotels of same or similar class. Other conditions apply. A valid Passport is required, and for non-US and Canadian citizens a visa may be required, and all passengers must comply with special Covid-19 entry requirements. Sale period and purchase validity is July 12- August 20, 2022. All travel must be completed by March 31, 2023. Prices are subject to change and the price charged varies based on the date of departure as shown with each package.
Call 1‑877‑GO‑TAHITI (1‑877‑468‑2448) or fill out a request form to book a package.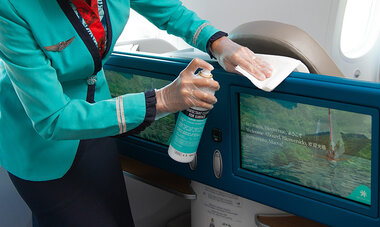 Air Tahiti Nui is proud to have partnered with Goway Travel, Islands In The Sun, Pacific Holidays, Pleasant Holidays and Tahiti.com, flying their customers to Tahiti. Experience true Tahitian culture and service the moment you board one of our brand new Tahitian Dreamliners. Select from one of these special departures and have an incredible vacation experience in the beautiful Islands of Tahiti.
Your safety and hygiene on board is at the center of our priorities. The procedure for cleaning and disinfecting our aircraft is reinforced at the start and at the finish of each flight, using specific measures against the coronavirus. During the flight, our crews are taking care of the cabins, with more frequent cleaning of all common areas using a specific disinfectant.
Our latest generation 787-9 Dreamliner aircrafts are equipped with a high-performance air filtration system, effective for removing particles, bacteria and viruses. The cabin air flow does not circulate from one row to the other, and the air is renewed every 2 to 3 minutes. This system is equipped with filters identical to those employed in hospitals and manage to capture and block up to 99.995% of bacteria and viruses in the cabin.
To learn more about our sanitary measures taken on board and entry requirements to French Polynesia, please CLICK HERE